LATEST NEWS OCTOBER 2021
Gatwick – Northern Runway Project
Information For Residents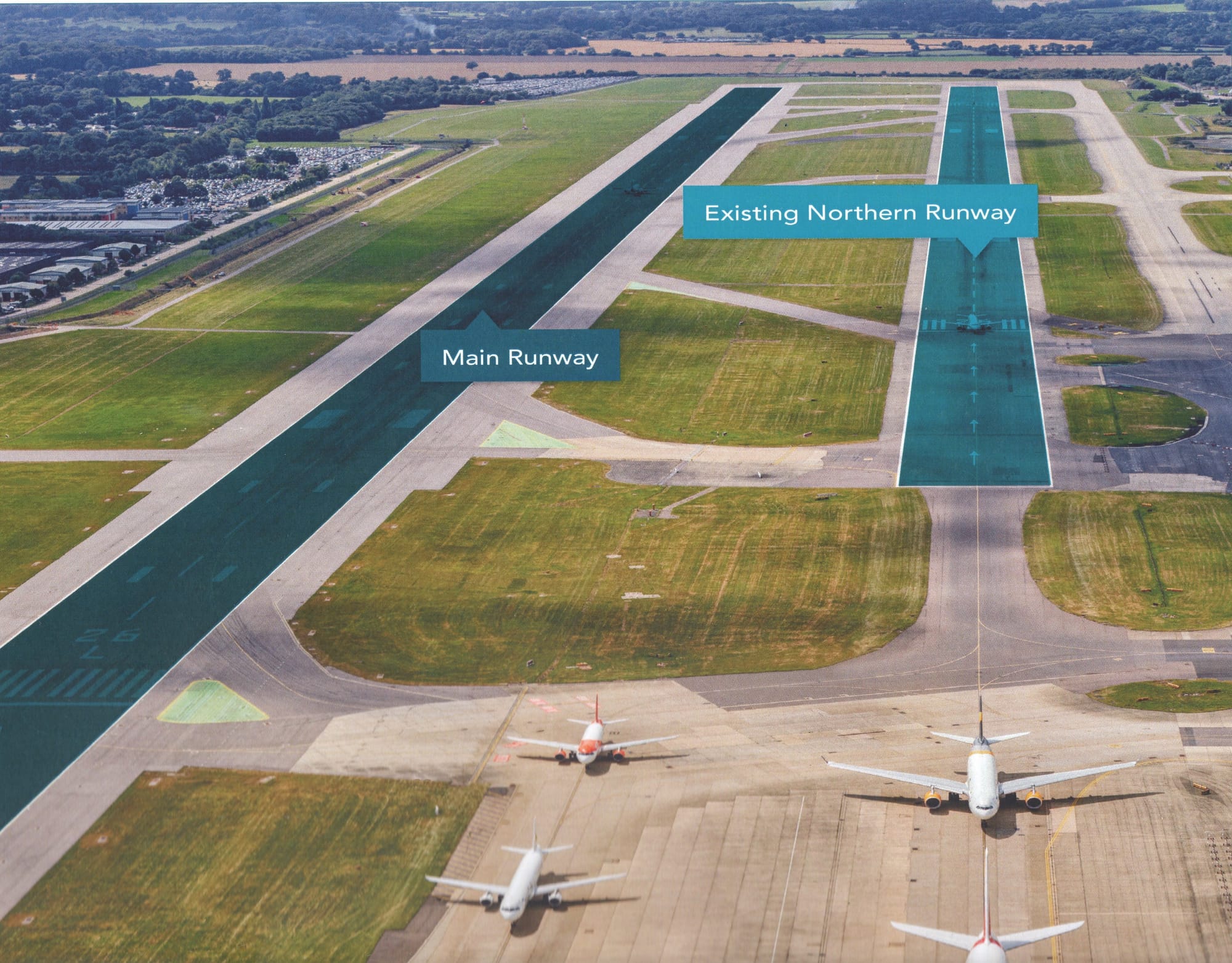 The skies over East Grinstead have been empty during the Covid crisis and even now are pretty quite with only one terminal open. Gatwick authorities estimate it will take 3 – 5 years to return to the pre pandemic flight levels. Despite this they are looking to the future and planning to convert the Northern (emergency) runway to a fully operational runway. This will give them two operational runways and increased flight capacity. If this works goes ahead it will take many years. The planned completion date for the project is around 2035.
Gatwick say the new runway and its infrastructure will be built within the confines of the existing airport. They also say that there are no proposed changes to the existing flight paths.
Gatwick Airport is in the consultation phase of this long-term project. There are numerous exhibitions in the area, which go into great detail. The nearest to us is in the EG library. There is also a consultation questionnaire, which we are invited to complete. This must be returned by the 1/12/2021 at the latest.
There are many pros and cons for this project. Residents may like to visit the exhibition and make their views known via the questionnaire.
For more information visit: gatwickairport.com/futureplans
Garden Wood News Update – June 2021
During the winter months our gardener cleared up tons of leaves and tidied up the edging to the grass areas. There was a good crop of Daffodils this spring. . A few years ago we planted a lot of Bluebells in the Dell area. They have taken a little while to establish but there was a reasonable display this year. Hopefully this will increase over time.
Company AGM
Last year we had to cancel the AGM due to Covid. The AGM is normally held around May/June. We have yet to set a date for this year's AGM, again due to Covid. As soon as a date is agreed you will be advised. Our annual accounts will be out soon and we will publish them on our web site. The AGM also gives shareholders the opportunity to ask questions of the directors but you do not need to wait for the AGM to do that. If you have any questions about the Company then please drop us an email and we will do our best to answer them.
Garden Wood On Line
We would like our web site to be the first port of call if you have any issues you want to raise with us. If you think there is an area of interest to residents that we have not covered on our web site then please let us know. You can email us direct from the web site.
Have a good summer.
John Shead
On behalf of
The Directors
Garden Wood Resident Co Ltd
LATEST NEWS 28TH NOVEMBER